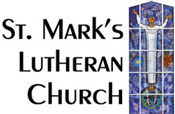 News
&
Articles
6.10.2018 - Progressions Milestone
6.10.2018 - Register for Vacation Bible School
5.6.2018 - Three Nominated for Council Seats
5.6.2018 - Successful Meal Packaging Event at St. Mark's
5.5.2018 - 2018 Annual Report Book Issued 
3.28.2018 - Celebrating the Passover Seder
3.27.2018 - March Lunch & Fellowship
2.26.2018 - You Can Help . . . Meal Packaging Event
2.26.2018 - Prayer Pillow Milestone
2.5.2018 - Souper Bowl 2018!
1.27.2018 - Lent 2018 Activities
12.25.2017 - Celebrating Christmas Eve at St. Mark's
12.17.2017 - Remembrance Service
12.15.2017 - Thank You for the Christmas Gifts
12.12.2017 - Williamsport Civic Chorus Concert & Kids' Night Out
12.6.2017 - Welcoming Advent
11.16.2017 - Successful St. Mark's Blood Drive
11.13.2017 - Operation Christmas Child
11.5.2017 - All Saints Day 2017
10.27.2017 - Joint Catholic-Lutheran Commemoration of the Reformation
REMEMBRANCE OF BAPTISM - Faith Chests
On Sunday, January 8, 2017, we celebrated the Baptism of our Lord, by presenting Faith Chests to those who have been baptized in the last year. Max Applegate, Alverda Comerford, Gage Pittenger, and Jayden Roberts received their Faith Chests during the 10:30 service.
They received medallions commemorating their baptisms and Faith Chests, prepared by Ed Gair, in which to keep mementos of their faith journey through life.
A reception was held in Fellowship Hall following the service.