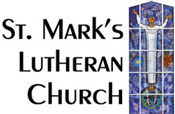 News
&
Articles
Aug 2, 2017 - St. Mark's Blood Drive
Jul 5, 2017 - Celebrating July 4 with St. Mark's
Jul 3, 2017 - Pastor West Celebrates 35th Anniversary of Ordination
Jul 3, 2017 - Pandamania VBS
Jun 13, 2017 - Summer picnic photos
Jun 10, 2017 - Blood drive - July 21
Jun 10, 2017 - Ice Cream Social
May 14, 2017 - Wedding Anniversary Milestone
May 10, 2017 - The 2017 Annual Report Booklet is Out
May 4, 2017 - Outreach Program Brings Food Packers to St. Mark's
May 4, 2017 - PandaMania VBS coming June 18-22
Apr 23, 2017 - Progressions Milestone: Jacob Schreckengast is entering the Navy
Apr 16, 2017 - Photos from Easter at St. Mark's
Apr 14, 2017 - St. Mark's Celebrates the Seder
Apr 12, 2017 - Palm Cross Making
Mar 26, 2017 - Pastor West Installed as Intentional Interim
Mar 26, 2017 - Bowling Excursion
Mar 19, 2017 - Youth Fundraising Dinner!
Feb 13, 2017 - Hobby Expo 2017
Feb 12, 2017 - Second Saturday Mints
REMEMBRANCE OF BAPTISM - Faith Chests
On Sunday, January 8, 2017, we celebrated the Baptism of our Lord, by presenting Faith Chests to those who have been baptized in the last year. Max Applegate, Alverda Comerford, Gage Pittenger, and Jayden Roberts received their Faith Chests during the 10:30 service.
They received medallions commemorating their baptisms and Faith Chests, prepared by Ed Gair, in which to keep mementos of their faith journey through life.
A reception was held in Fellowship Hall following the service.