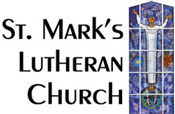 News
&
Articles
10.18.2018 - Celebrating Blanket Sunday
10.18.2018 - Harvest Home Celebration
10.14.2018 - Blessing of the Keys
9.23.2018 - Bazaar Raises Funds for Charity
8.19.2018 - Milestone: Praising God for More than 70 years
7.17.2018 - Family Fishing Derby
7.9.2018 - Photos from July 4 Hospitality
7.9.2018 - Celebrating Independence Day with St. Mark's
6.28.2018 - Photos from Wizards & Wonders VBS
6.10.2018 - Progressions Milestone
5.6.2018 - Three Nominated for Council Seats
5.6.2018 - Successful Meal Packaging Event at St. Mark's
5.5.2018 - 2018 Annual Report Book Issued 
3.28.2018 - Celebrating the Passover Seder
3.27.2018 - March Lunch & Fellowship
2.26.2018 - You Can Help . . . Meal Packaging Event
2.26.2018 - Prayer Pillow Milestone
2.5.2018 - Souper Bowl 2018!
1.27.2018 - Lent 2018 Activities
12.25.2017 - Celebrating Christmas Eve at St. Mark's
Happy Birthday Pastor West!
We are pleased to have Pastor West with us as we transition between pastors - but for the Pastor, one of the consequences of serving a congregation so far from home is that you can't be with your family on your birthday.
On Sunday, August 27, his St. Mark's family did celebrate the birthday - with cake after the service.
When you see Pastor West - wish him a happy birthday.