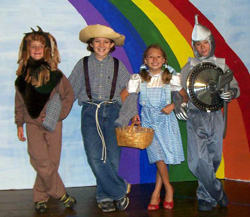 The Wizard of Oz
Choir Camp, August 2010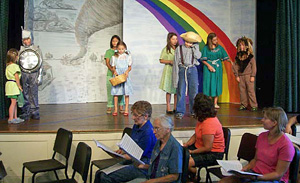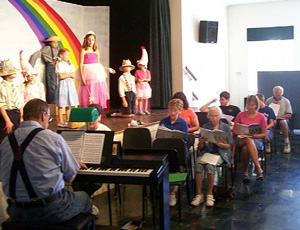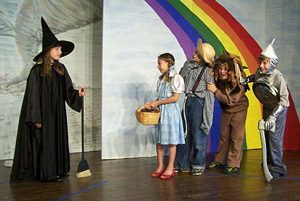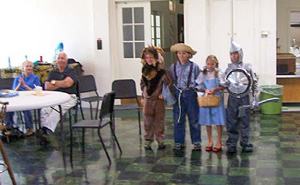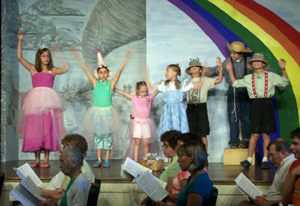 August at St. Mark's means - Choir Camp. This year's production brought together Dorothy, the Tin Man, Scarecrow and Cowardly Lion in a musical production of "The Wizard of Oz."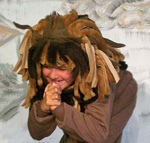 The kids worked hard all week. Then, over 50 people enjoyed the performance on Saturday evening, August 7, after sharing a yummy pot-luck dinner. The kids, youth and adults all had a great time during the week and put on a memorable performance that last evening.
Our thanks go out to the following people: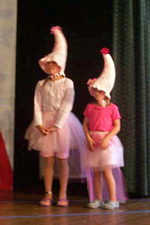 CAST: Makensi Doebler (Auntie Em, Citizen of Oz, Captain), Hannah Haussmann (Dorothy), Dawson Owen (Scarecrow), Ben Haussmann (Tinman, Munchkin), Sean Jensen (Cowardly Lion, Munchkin), Laura Zeigler (Glenda, Citizen of Oz), Anna Zeigler (Wicked Witch of the West, Citizen of Oz), Lizzie Haussmann (Munchkin, Citizen of Oz, Witch's Guard), Annika Waffenschmidt (Wizard, Munchkin).
ADULT CHOIR: Karen Boone (Glenda), Michele Fredericks (Dorothy), Declan Jones (Scarecrow), Stephen Boone (Tinman), Lou DeSeau (Lion), Jane Kline, Lois Smith, Ruth Burkholder, Diana Zeigler, Pam Jensen, Vicki Haussmann, Bud Doebler.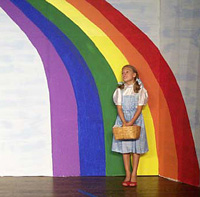 CREW: Bernadette H. Jones (Director, designer), Richard Lakey (Music Director, Accompanist, Set Painting), Sara Jones (Stage Manager, Set Painting), Lou DeSeau (Set construction, Set Painting, Everything Else), Michele Owen (Set Painting, Show Crew), Devin Owen (Set Painting), Corey Hospes (Lights).
KITCHEN STAFF: Shirley Kinney, Lois Smith, Sally Bjornstad, Michele Fredericks, Jackie Kinney, Russ Smith.
These notes from Pastor Elkin were included in the program: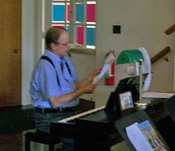 "No, our story tonight does not come from some unknown letter of Paul or an extra chapter of Acts. It is not a story from scripture as our previous summer productions have been, but nevertheless it picks up themes that reflect the scriptures.
As the Bible warns, there is evil lurking around, ready to ensnare us. Evil will not finally win, because of Jesus victory over death and the grave, even as in the story of Oz the evil witch melts away in the face of good. Dare we even imagine that the bucket of water is a baptismal reference?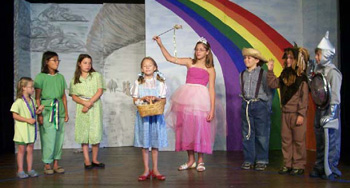 The supposedly powerful wizard is shown to be a fraud, as is every person or political leader who wants to be regarded as Lord. (Remember that the movie was made during the Nazi years.)
Dorothy makes new friends as they walk along the Way. Each of them must discover that God has given them the gifts that they need. They must recognize them and then make good use of them, for the benefit of their companions as well as themselves.
So, we hope that you enjoy our little production this evening, finding it both enjoyable and encouraging to each of us as we work through the problems in our daily lives. As they say in another far-off land, our partner church in Liberia: 'God is good, every day; every day, God is good.'"