Milestones:
Birth - Receiving blanket
Baptism - Faith chest & baptismal medallion
Two years - The prayer pillow
Kindergarten - All the languages of the good news
First Communion
Third Grade Sunday Church School - Good News Bible
Seventh grade, upon entering catechetical studies - Luther's Small Catechism
Completion of Confirmation Study - Learning Bible and crosses
Young Drivers - Blessing of the keys
Wedding Anniversary
Remembrance of our beloved
75 or more Years of Praising God
Progressions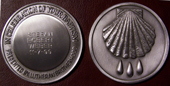 What is St. Mark's Milestone Ministry?
Milestone ministry is a way for us to celebrate the promises made in baptism, provide learning opportunities for families, and recommit ourselves as a congregation to nurture one another as the body of Christ as we mark "milestones" in a person's journey of faith.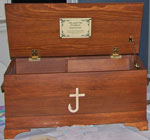 Based on faith passage moments encountered by children, youth and adults. These particular occasions are marked and celebrated with families and individuals as they grow in their faith life. The first milestone is baptism. Throughout a child's growing years, there are other times that we make a point to connect as a congregation and celebrate once again this identity as a child of God, a brother and sister in Christ.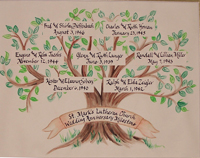 Milestones are marked by:
Celebration during worship. Families and the congregation celebrate the milestone together.
Gifts. Each milestone is celebrated with gifts from the congregation. The gifts serve as a reminder for the individual as their faith journey continues.
A luncheon. The families gather for fellowship and lunch. Often, this is an opportunity for the milestone recipient to examine and understand their gifts.
Taking it all home. Families begin to use the tools and experiences in their daily lives at home. Growth in faith is going on everywhere!