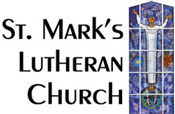 News
&
Articles
5.23.2019 - Council Members Elected
5.22.2019 - 2019 Annual Report Book Issued
4.20.2019 - The Passover Seder
4.13.2019 - Meal Packaging Event Draws Crowd of Volunteers
2.23.2019 - Photos from the 2019 Hobby Expo
2.12.2019 - All the Languages of the Good News Milestone
2.4.2019 - Souper Bowl Sunday Results
1.30.2019 - Faith Chest Milestone Celebrated
1.13.2019 - Hymn Debut Celebrates Baptism of Christ
12.25.2018 - Sights of Christmas
12.24.2018 - Christmas Outreach
12.14.2018 - St. Mark's Hosts Successful Blood Drive
12.9.2018 - Kids Night Out!
11.18.2018 - Packing for Operation Christmas Child
11.6.2018 - All Saints Day 2018
10.28.2018 - Pumpkins!
10.18.2018 - Harvest Home Celebration
10.18.2018 - Celebrating Blanket Sunday
10.14.2018 - Blessing of the Keys
9.23.2018 - Bazaar Raises Funds for Charity
2018 Annual Report Book Issued
The book of reports for the 2018 annual congregational meeting has been issued. The Pastor and the various committee heads have reported to the congregation on the activities of St. Mark's, for the past year.
The congregational meeting will occur on May 20, 2018 at which time the reports will be reviewed and Congregational Council members will be elected.