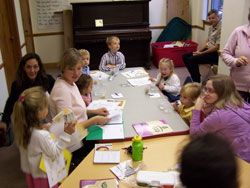 Sunday School at St. Mark's is a wonderful time of fellowship and learning for all ages--from our oldest to our youngest members of the congregation.
Our 2011-12 program opens September 11, in the Chapel at 9:15 on Sunday morning, where we all meet to sing and find out what's new. Five minutes later, we proceed to our various classes.
For our adults, we have a choice of two:

V Crossways: We have but one story to tell, the Good News of Jesus, but we have many ways to approach it. Last year we explored the Gospel at work in the lives of various figures in church history including such persons as William Wilberforce and Father Damien. This fall we turn back to one of the first tellers of the story, the apostle Paul and the important letter he wrote to the church in Rome. We'll be using a portion of a videotape by Dr. N.T. Wright, a British scholar, to start our conversation each week about the book of Romans and its continuing value for the life of faith. Come, join in!
V Middle Lounge: This group pursues a variety of topics. Kathy Dancho continues to lead this assembly as we explore another book by Pr. Ron Lavin, entitled The Eagle. In this study, we'll explore the Gospel of John. Despair and suffering without hope is the theme that many in the world preach. This theme is reversed by the fourth gospel. There is always a way out - even a way out of death. There's plenty of room for all.
Our high school youth meet in a room set up especially for them in an informal setting that encourages discussion on matters important to them. Lou Deseau and Bob Jones continue to lead this group after effectively developing the format in 2006. The youth have expressed an interest in examining current affairs and how the Bible helps us to put things in perspective. They also have a little "breakfast bar" available to them on Sunday mornings and access to contemporary Christian CDs.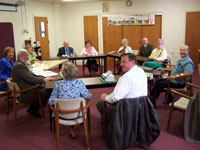 As they prepare for confirmation, our middle school students involve themselves with a more goal-oriented curriculum as they learn about what, exactly, it means to be a Lutheran. They learn about the history, prayers, terminology and services of the church. They also become involved with service projects and trips to locations important to the history of the Lutheran church in America.

This year elementary and younger students are again using the Spark curriculum. which uses a lectionary-based curriculum model with a lesson flexibility that allows teachers to teach the Bible story in the way that works best for the students. Online forums are available for teachers to share ideas with other Christian educators. With Spark, kids open their Bibles each week and engage in Scripture! Watch them grow in their faith by encountering God's Word while participating in activities that reinforce the Bible stories. Spark lessons are designed to engage every child in active learning! Age-appropriate lessons designed for multiple intelligences reinforce key points of the stories and help kids get more out of Sunday school, no matter what their learning style may be. The classes are divided into Pre-K—K, 1—2, 3 and 4-5. The teachers volunteer on a monthly rotation that keeps things fresh for the children and doesn't exhaust our volunteers.
If any of these interest you—as a student or a volunteer teacher — please contact our Youth & Family Ministry leaders at bjones@stmarkswilliamsport.org or mowen@stmarkswilliamsport.org.