Records for Genealogical Research and History Buffs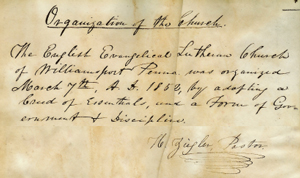 St. Mark's archive includes a number of early volumes, dating from the founding of the church in March 1852. All of the volumes are handwritten. Some are in their original binding and others have been rebound.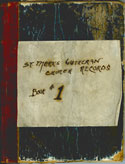 All of the volumes show varied signs of deterioration including foxing (browning), frayed and cracked edges; broken bindings and fading ink. Nevertheless, the volumes are intact and very little of the written text is missing or unintelligible.
Digitalization of these records serves several purposes. First, preservation of the records. The images of the records are preserved, to mitigate the impact of future deterioration of the record. Of course, damage or loss due to fire or flood is always possible. Indeed, it is quite amazing that the volumes were not damaged or lost in the many floods that struck St. Mark's in its early years.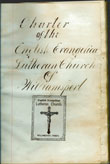 Second, digitalized records are more accessible. Indeed, one part of the project is to post the records on the Web, for access by all who are interested in the history of the church and in genealogical research. A Rootsweb (an online database of genealogical records) Web site has been established for this purpose. See: http://freepages.genealogy.rootsweb.com/~stmarkswilliamsport . Digitalized records may be copied and distributed in many ways, and digitalization limits the need to handle the original documents, possibly causing more deterioration.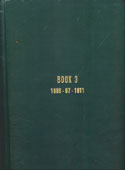 Third, poor handwriting and fading ink sometimes renders records difficult to read. Digital records may be magnified and enhanced for examination.
The earliest of St. Mark's records are in volumes numbered 1 through 4. Volumes 1 appears to be in its original binder. Volumes 2, 3 and 4 contain one or more original volumes that have been rebound.
Volume 1 is clearly the earliest of the volumes, containing handwritten records of the establishment of the church in 1852 and church council meeting notes through 1868. Volume 2 contains some early material, including the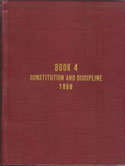 original charter of 1852, amendments through 1892, the constitution of 1886 and member rolls through 1918, 1942 & 1943.
Volumes 3 & 4 contain the pastoral records of Pastor Lampe (1863) through Pastor Paulson (1911). These include baptisms, confirmations, burials, marriages and communion records. These are of most interest to those looking at genealogy. Volume 4 also contains the constitution and discipline from 1859, along with the signatures of members in agreement with the document.
Some of the earliest records have been posted on the Rootsweb site. Others will follow. With luck and available time, most of the records will be scanned to digital format by the end of 2006.