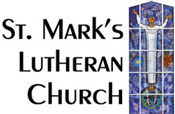 News
&
Articles
Oct 8, 2017 - Blanket Sunday 2017
Sep 27, 2017 - St. Mark's Celebrates the Reformation in October
Sep 27, 2017 - Lunch 'N Fellowship E-X-P-A-N-D-S!
Sep 18, 2017 - The Rite of Confirmation 2017
Sep 17, 2017 - Celebration 2017
Sep 6, 2017 - Thank-you Donna Elkin
Sep 4, 2017 - Meet Christian Humcke St. Mark's New Director of Music
Sep 1, 2017 - Happy Birthday Pastor West!
Aug 21, 2017 - Progressions Milestone - Zeigler Girls
Aug 2, 2017 - St. Mark's Blood Drive
Jul 5, 2017 - Celebrating July 4 with St. Mark's
Jul 3, 2017 - Pastor West Celebrates 35th Anniversary of Ordination
Jul 3, 2017 - Pandamania VBS
Jun 13, 2017 - Summer picnic photos
Jun 10, 2017 - Blood drive - July 21
Jun 10, 2017 - Ice Cream Social
May 14, 2017 - Wedding Anniversary Milestone
May 10, 2017 - The 2017 Annual Report Booklet is Out
May 4, 2017 - PandaMania VBS coming June 18-22
May 4, 2017 - Outreach Program Brings Food Packers to St. Mark's
Meet Christian Humcke
St. Mark's New Director of Music
Please welcome our new Director of Music, Christian Humcke. He begins his work the first week of September, and will be at the organ on September 10.
Christian is a native of Long Valley, New Jersey, but is quite familiar with our area as he studied at Bucknell. He grew up in a Lutheran parish and is well acquainted with the Lutheran service and Lutheran music, worship, and liturgical traditions.
Christian obtained a Bachelor of Music degree from Bucknell University, Lewisburg in 2015 and a Master of Music degree from the Peabody Conservatory, Baltimore, Maryland in 2017. He comes to to us highly recommended.
He is a talented composer of choral music, a conductor and musician.
He also enjoys the outdoors. After graduation this summer, he took a grand tour of the western United States, visiting many of our grandest national parks.
St. Mark's looks forward to working with Christian Humcke as he transitions form the academic to his new role as our Music Director.