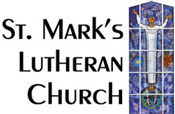 News
&
Articles
1.13.2019 - Hymn Debut Celebrates Baptism of Christ
12.25.2018 - Sights of Christmas
12.24.2018 - Christmas Outreach
12.14.2018 - St. Mark's Hosts Successful Blood Drive
12.9.2018 - Kids Night Out!
11.18.2018 - Packing for Operation Christmas Child
11.6.2018 - All Saints Day 2018
10.28.2018 - Pumpkins!
10.18.2018 - Harvest Home Celebration
10.18.2018 - Celebrating Blanket Sunday
10.14.2018 - Blessing of the Keys
9.23.2018 - Bazaar Raises Funds for Charity
8.19.2018 - Milestone: Praising God for More than 70 years
7.17.2018 - Family Fishing Derby
7.9.2018 - Celebrating Independence Day with St. Mark's
7.9.2018 - Photos from July 4 Hospitality
6.28.2018 - Photos from Wizards & Wonders VBS
6.10.2018 - Progressions Milestone
5.6.2018 - Three Nominated for Council Seats
5.6.2018 - Successful Meal Packaging Event at St. Mark's
Meet Christian Humcke
St. Mark's New Director of Music
Please welcome our new Director of Music, Christian Humcke. He begins his work the first week of September, and will be at the organ on September 10.
Christian is a native of Long Valley, New Jersey, but is quite familiar with our area as he studied at Bucknell. He grew up in a Lutheran parish and is well acquainted with the Lutheran service and Lutheran music, worship, and liturgical traditions.
Christian obtained a Bachelor of Music degree from Bucknell University, Lewisburg in 2015 and a Master of Music degree from the Peabody Conservatory, Baltimore, Maryland in 2017. He comes to to us highly recommended.
He is a talented composer of choral music, a conductor and musician.
He also enjoys the outdoors. After graduation this summer, he took a grand tour of the western United States, visiting many of our grandest national parks.
St. Mark's looks forward to working with Christian Humcke as he transitions form the academic to his new role as our Music Director.