Recent Sermons
Second Sunday after Epiphany - Jan 15, 2017
Baptism of Jesus - Jan 6, 2017
The Name of Jesus - The Eighth Day of Christmas - Jan 1, 2017
● The Gift
The Nativity of Our Lord, Christmas Day - Dec 25, 2016
● God's Love Changes Everything
Christmas Eve - Dec 24, 2016
● Lonely?
Remembrance Service - Dec 18, 2016
Fourth Sunday of Advent - Dec 18, 2016
Third Sunday of Advent - Dec 11, 2016
---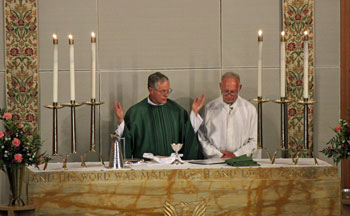 Join Us for Worship! Visitors are always welcome to join us at St. Mark's for Sunday worship and holiday services. Sunday services are at 8:00 AM and 10:30 AM. A time of fellowship and refreshments follows the service. Holiday and special service times are listed in the calendar.
About the liturgy. By participating in the liturgy you are joining with the community of saints of all times, places, and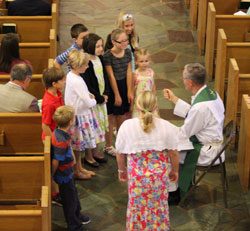 cultures. Together we hear God's Word, celebrate baptism, receive his Body and Blood, and offer our thanks and praise using texts and actions which have been celebrated in common by most Christians for nearly 2000 years. Around this font, table and Word we are to be refreshed and strengthened by the Lord Jesus so that we may learn and do day after day what God wishes.
Every week the pastor teaches and challenges us with the sermon. The pastor takes the time to speak to the children, to translate the message into terms they understand.