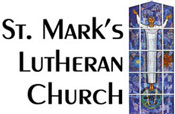 News
&
Articles
6.19.2022 - Council Proposes Revised St. Mark's Constitution & By-Laws
6.12.2022 - Confirmation
5.26.2022 - ELCA Response to the School Shooting in Uvalde, Texas
3.13.2022 - The Wind Strikes Again!
3.1.2022 - Fastnachts - A Shrove Tuesday Tradition
12.6.2021 - St. Mark's Annual Report Issued
11.28.2021 - Making Advent Wreaths
11.21.2021 - Operation Christmas Child Shoeboxes Packed and Ready to Go!
11.7.2021 - All Saints' Day 2021
10.23.2021 - Pumpkin Carving Fun
10.10.2021 - Crop Walk 2021
10.5.2021 - Pets Blessed
10.3.2021 - Blanket Sunday
9.26.2021 - Milestone Moment: Blessing of the Car Keys
9.25.2021 - God Moment
9.18.2021 - Celebrating "God's Work, Our Hands"
8.15.2021 - Bernadette Jones Recognized for Her Service
7.6.2021 - Pastor Vasey Celebrates 35 years of Ordination
7.6.2021 - Recognizing High School Graduate Sean Jensen
2.11.2021 - St. Mark's to Reopen for Regular Sunday Services

The Williamsport Camerata Performs to Support Organ Repairs
On Sunday November 17, 2019, in the nave of St. Mark's Lutheran Church, the Williamsport Camerata presented its second concert, under the direction of Christian Humcke and Harry Claude Baum. The concert featured music by American composers, including works by Billings, Copland, Barber, Thompson, Paulus, Dett, Hogan, and Lauridsen. Both Christian and Harry Claude composed pieces that were also performed by the group.
The concert was inspired by by the extraordinary costs involved in replacing St. Mark's organ blower which, after many years of dedicated service, failed. Donations at the concert totaled $1518. Members have been quite generous in supporting the costs of the repair and to date, over $9700 has been donated to the repair expenses. To the extent that costs exceed the current donations, certain memorial funds dedicated to the organ fund will be used for the repair.
Thank you Christian for organizing the concert to support the organ fund - and thank you members and concert guests for your financial support