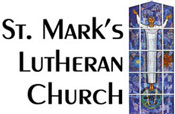 2016
News &
Articles
12.18.2016 - Photograph's from Pastor Elkin's Retirement dinner
12.13.2016 - Cookies, Cookies & More Cookies!
12.12.2016 - Preparing for Christmas - Kids Night Out
12.5.2016 - Praying for our College Students
12.5.2016 - A Christmas Carol Performance
12.1.2016 - Making Advent Wreaths
11.30.2016 - Pastor Elkin summarizes 20+years of life together in St. Mark's?
11.21.2016 - Christ the King Sunday Milestones
11.14.2016 - Pack 'n Wrap at Redeemer
11.6.2016 - Recognizing & Honoring All the Saints
10.29.2016 - Celebrating Reformation Sunday
10.16.2016 - Gage Charles Pittinger - Baptism Milestone
10.16.2016 - Harvest Home Sunday
10.9.2016 - Crop Walk 2016
10.5.2016 - Support the St. Mark's Crop Walk team
10.2.2016 - Photos from Consecration Sunday
10.2.2016 - It's Raining Quilts - They're Everywhere!
9.19.2016 - Confirmation Milestone: Sean Jensen & Dylan Ott
9.12.2016 - CELEBration!
9.12.2016 - Fall Bazaar Brings in Funds for Charity
9.4.2016 - Christian Education: Learning & Encouraging the Bible
8.24.2016 - Locked-in at St. Mark's
8.12.2016 - St. Mark's 2016 Fishing Derby
8.12.2016 - Pastor Elkin Announces Upcoming Retirement
8.10.2016 - Kits for victims of Disaster & Poverty
8.8.2016 - 70+, SINGLE, AND STILL PRAISING GOD!
7.23.2016 - Helping Hands Day
7.6.2016 - St. Mark's July 4 Hospitality
6.29.2016 - "La frontera: Where Jesus Meets Us"
6.28.2016 - Stefan Weber and Jacob Schreckengast celebrate driving milestone
6.28.2016 - Synod Assembly report; Bishop elected
5.17.2016 - 2016 Annual Congregation Assembly
5.9.2016 - Youth Conduct Service
5.9.2016 - 2016 Annual Report
4.24.2016 - Applegate Baptism Celebrated
4.21.2016 - Pastor Elkin's Surprise Party Celebrating his 20th Year at St. Mark's
4.16.2016 - Commemorating 20 Years of Service - With a Youth Feast!
4.6.2016 - Food Packaging Event
3.27.2016 - Breakfast with the Pastor & Easter Egg Hunt
3.26.2016 - The Vigil of Easter
3.25.2016 - 2016 Confirmation Trip
3.19.2016 - Making Palm Crosses
3.5.2016 - VALENTINE FUNDRAISING DINNER A SUCCESS!
3.5.2016 - Tubing
2.17.2016 - A piece of our past: 1941 Confirmation Class
2.8.2016 - Prayer Pillows for Brennan and Dallas
2.8.2016 - Join the Bell Choir!
1.31.2016 - Lenten Services Scheduled
1.10.2016 - Commemorating Baptism with Faith Chests


THE VIGIL OF EASTER
This holy night is the most solemn festival in the entire year, since it deals with the central mystery of our redemption - Christ's saving death and his glorious resurrection.
The Service of Light
The first part of the Vigil centers on fire and light, the visible symbol of Christ, who proclaimed himself "The Light of the World". On Easter morning He arose, resplendent as the dawning sun, thereby conquering death forever. With this thought in mind we assist at the lighting of the Easter Candle, the carrying and distribution of this burning candle through the church, and the Easter Announcement, "Rejoice now ..... We anticipate our joyful sharing of Christ's triumph in resurrection.

The Baptismal Service
The second part of the Vigil has as its center the mystery of Baptism, by which the light of Christ was first given to each of us. Through Holy Baptism we died to sin to rise with Christ - going down into the font in death in order to come up cleansed from sin and alive to God. The Readings show this transformation by recounting Old Testament events that foreshadowed it. The blessing or the baptismal water leads up to Holy Baptism and I he renewal or the resolve of the whole congregation to live with the Baptismal promise of the Risen Christ. Then the litany is prayed, as we ask God I to help us keep our baptismal vows.
The First Communion of Easter
With the grand ringing of bells, the chancel becomes a proper setting for Easter joy. We have reached the climax of the Easter Vigil the feast of the risen Christ. As baptized members of Christ's Body, we share the feast of his presence and then leave the church to go and tell the Good News. Our first stop is in Fellowship Hall, where we give thanks for the baskets for the continuing festival at home, greet the affirmers, and enjoy each other's company.

Blessing of the Baskets for the Continuing Feast
It is a custom, especially in Eastern Europe, to set aside a basket of special foods for the feast on Easter Day.
Be with us now and bless us as we set apart this food for your glory and our joy: Paschal Lamb ... ham or other cured pork. .. vinegar ... salt...wine ... horseradish ... egg ... bread. Bring us to new seasons of joy and festivities. Give us faith to know your gracious purpose in all things, And continue your blessings to us through the bounty of your creation; through your Son, Jesus Christ our Lord, who lives and reigns with you and the Holy Spirit, One God, now and forever. Amen.