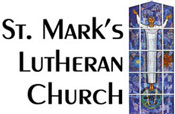 News
&
Articles
11.25.2019 - Bishop Collins Presides at Pastor Vasey's Installation
11.18.2019 - The Williamsport Camerata Performs to Support Organ Repairs
11.11.2019 - An All Saint's Sunday Welcome To Pastor Brian Vasey
11.2.2019 - All Saints' Day
10.20.2019 - St. Mark's New Pastor Brian David Vasey
10.10.2019 - The Gift of Warmth
10.6.2019 - Thank You Pastor James West
9.23.2019 - Rally Day 2019
9.7.2019 - St. Mark's Fall Bazaar
8.18.2019 - 70+, SINGLE AND STILL PRAISING GOD
7.18.2019 - St. Mark's Picnic and Fishing Derby
7.7.2019 - St. Mark's July 4, 2019 Events
6.27.2019 - Roaring With Vacation Bible School
6.27.2019 - Farewell and Godspeed to Bookkeeper Graydon Yearick
5.23.2019 - Council Members Elected
5.22.2019 - 2019 Annual Report Book Issued
4.20.2019 - The Passover Seder
4.13.2019 - Meal Packaging Event Draws Crowd of Volunteers
2.23.2019 - Photos from the 2019 Hobby Expo
2.12.2019 - All the Languages of the Good News Milestone
REMEMBRANCE OF BAPTISM - Faith Chests
On Sunday, January 8, 2017, we celebrated the Baptism of our Lord, by presenting Faith Chests to those who have been baptized in the last year. Max Applegate, Alverda Comerford, Gage Pittenger, and Jayden Roberts received their Faith Chests during the 10:30 service.
They received medallions commemorating their baptisms and Faith Chests, prepared by Ed Gair, in which to keep mementos of their faith journey through life.
A reception was held in Fellowship Hall following the service.