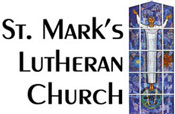 News
&
Articles
8.18.2019 - 70+, SINGLE AND STILL PRAISING GOD
7.18.2019 - St. Mark's Picnic and Fishing Derby
7.7.2019 - St. Mark's July 4, 2019 Events
6.27.2019 - Roaring With Vacation Bible School
6.27.2019 - Farewell and Godspeed to Bookkeeper Graydon Yearick
5.23.2019 - Council Members Elected
5.22.2019 - 2019 Annual Report Book Issued
4.20.2019 - The Passover Seder
4.13.2019 - Meal Packaging Event Draws Crowd of Volunteers
2.23.2019 - Photos from the 2019 Hobby Expo
2.12.2019 - All the Languages of the Good News Milestone
2.4.2019 - Souper Bowl Sunday Results
1.30.2019 - Faith Chest Milestone Celebrated
1.13.2019 - Hymn Debut Celebrates Baptism of Christ
12.25.2018 - Sights of Christmas
12.24.2018 - Christmas Outreach
12.14.2018 - St. Mark's Hosts Successful Blood Drive
12.9.2018 - Kids Night Out!
11.18.2018 - Packing for Operation Christmas Child
11.6.2018 - All Saints Day 2018

Lunch & Fellowship
Our kitchen elves were kept hopping during Lent with meals every Wednesday. At the community lunch on March 21, almost 50 people were served (the pasta and meatballs were excellent).
Baked Ham is on the menu for Wednesday, April 18. Please join us!!