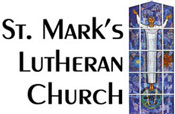 News
&
Articles
11.25.2019 - Bishop Collins Presides at Pastor Vasey's Installation
11.18.2019 - The Williamsport Camerata Performs to Support Organ Repairs
11.11.2019 - An All Saint's Sunday Welcome To Pastor Brian Vasey
11.2.2019 - All Saints' Day
10.20.2019 - St. Mark's New Pastor Brian David Vasey
10.10.2019 - The Gift of Warmth
10.6.2019 - Thank You Pastor James West
9.23.2019 - Rally Day 2019
9.7.2019 - St. Mark's Fall Bazaar
8.18.2019 - 70+, SINGLE AND STILL PRAISING GOD
7.18.2019 - St. Mark's Picnic and Fishing Derby
7.7.2019 - St. Mark's July 4, 2019 Events
6.27.2019 - Roaring With Vacation Bible School
6.27.2019 - Farewell and Godspeed to Bookkeeper Graydon Yearick
5.23.2019 - Council Members Elected
5.22.2019 - 2019 Annual Report Book Issued
4.20.2019 - The Passover Seder
4.13.2019 - Meal Packaging Event Draws Crowd of Volunteers
2.23.2019 - Photos from the 2019 Hobby Expo
2.12.2019 - All the Languages of the Good News Milestone

Wedding Anniversary Milestone
On Sunday, May 14, four very special couples were held up in prayer during the second service in the Nave and served a special meal in Fellowship Hall afterwards. Why? Because they had attained that special status of being married for 50+ years.
Carl & Audrey Albright, Ron & Grace Arner, Skip & Gloria Greevy, and Wes & Sarah Young were those so honored. They and their children and grandchildren were invited to join them and many came.
At the luncheon, the couples shared pictures of themselves from early in their marriage received framed "Tree of Life" prints and a certificate indicating an improvement, made in their names, at St. Mark's.