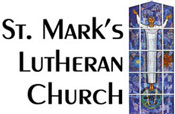 News
&
Articles
6.21.2020 - St. Mark's to Reopen for Regular Sunday Services
6.15.2020 - St. Mark's Lutheran Responds to Pandemic with Online Worship
6.1.2020 - Meet Music Director Sam Robinson
3.17.2020 - Lenten Services Cancelled
3.16.2020 - Letter From the Bishop: Follow Martin Luther's Example
2.22.2020 - St. Mark's Building Attains Milestone
2.17.2020 - Farewell to Christian
2.2.2020 - Souper Bowl Sunday
12.15.2019 - Welcoming Finley Stugart Through Baptism
12.8.2019 - Pageant of Christian Symbols Celebrated
11.25.2019 - Bishop Collins Presides at Pastor Vasey's Installation
11.18.2019 - The Williamsport Camerata Performs to Support Organ Repairs
11.11.2019 - An All Saint's Sunday Welcome To Pastor Brian Vasey
11.2.2019 - All Saints' Day
10.20.2019 - St. Mark's New Pastor Brian David Vasey
10.10.2019 - The Gift of Warmth
10.6.2019 - Thank You Pastor James West
9.23.2019 - Rally Day 2019
9.7.2019 - St. Mark's Fall Bazaar
8.18.2019 - 70+, SINGLE AND STILL PRAISING GOD

Lycoming College Involvement Fair
Lycoming College held its annual Involvement Fair in September, on the Quad. Representatives from a host of campus and community organizations gathered to welcome students and invite them to get involved in a variety of activities.
St. Mark's, as well as multiple other area businesses, community service agencies and other non-profit organizations attended the fair to provide awareness of their services and offerings.
Lycoming students frequently donate time to assist St. Mark's in its outreach programs. Thanks to Lycoming College for promoting community involvement to its student's.