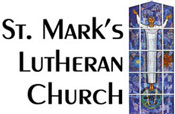 News
&
Articles
3.17.2020 - Lenten Services Cancelled
3.16.2020 - Letter From the Bishop: Follow Martin Luther's Example
2.22.2020 - St. Mark's Building Attains Milestone
2.17.2020 - Farewell to Christian
2.2.2020 - Souper Bowl Sunday
12.15.2019 - Welcoming Finley Stugart Through Baptism
12.8.2019 - Pageant of Christian Symbols Celebrated
11.25.2019 - Bishop Collins Presides at Pastor Vasey's Installation
11.18.2019 - The Williamsport Camerata Performs to Support Organ Repairs
11.11.2019 - An All Saint's Sunday Welcome To Pastor Brian Vasey
11.2.2019 - All Saints' Day
10.20.2019 - St. Mark's New Pastor Brian David Vasey
10.10.2019 - The Gift of Warmth
10.6.2019 - Thank You Pastor James West
9.23.2019 - Rally Day 2019
9.7.2019 - St. Mark's Fall Bazaar
8.18.2019 - 70+, SINGLE AND STILL PRAISING GOD
7.18.2019 - St. Mark's Picnic and Fishing Derby
7.7.2019 - St. Mark's July 4, 2019 Events
6.27.2019 - Roaring With Vacation Bible School
6.27.2019 - Farewell and Godspeed to Bookkeeper Graydon Yearick
Blanket Sunday
October 1, 2017
The quilters have been busy again!
With cold weather approaching, our thoughts go to the warmth of blankets. St. Mark's quilters displayed their handiwork in the church on Blanket Sunday, October 1st. The Nave was covered with dozens of quilts for the celebration.
The quilts will be delivered worldwide to to attend to the needs of many, for warmth and comfort.