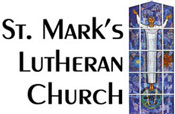 News
&
Articles
6.19.2022 - Council Proposes Revised St. Mark's Constitution & By-Laws
6.12.2022 - Confirmation
5.26.2022 - ELCA Response to the School Shooting in Uvalde, Texas
3.13.2022 - The Wind Strikes Again!
3.1.2022 - Fastnachts - A Shrove Tuesday Tradition
12.6.2021 - St. Mark's Annual Report Issued
11.28.2021 - Making Advent Wreaths
11.21.2021 - Operation Christmas Child Shoeboxes Packed and Ready to Go!
11.7.2021 - All Saints' Day 2021
10.23.2021 - Pumpkin Carving Fun
10.10.2021 - Crop Walk 2021
10.5.2021 - Pets Blessed
10.3.2021 - Blanket Sunday
9.26.2021 - Milestone Moment: Blessing of the Car Keys
9.25.2021 - God Moment
9.18.2021 - Celebrating "God's Work, Our Hands"
8.15.2021 - Bernadette Jones Recognized for Her Service
7.6.2021 - Pastor Vasey Celebrates 35 years of Ordination
7.6.2021 - Recognizing High School Graduate Sean Jensen
2.11.2021 - St. Mark's to Reopen for Regular Sunday Services
Where your treasure is, there your heart will be also

Consecration Sunday, October 22, 2017
The Consecration Sunday celebration continues to be very important in the life of St. Mark's congregation. It is our annual opportunity to reflect on the generous gifts God has granted to us and to plan how we can best use them in the ministries of the congregation and in our daily lives. On this day we consider our financial commitment to the church.
We celebrated the day with food and fellowship. At 9:30 AM, breakfast was served. After the 10:30 service, folks sat down for a full dinner.