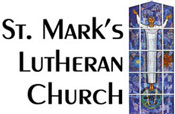 News
&
Articles
6.19.2022 - Council Proposes Revised St. Mark's Constitution & By-Laws
6.12.2022 - Confirmation
5.26.2022 - ELCA Response to the School Shooting in Uvalde, Texas
3.13.2022 - The Wind Strikes Again!
3.1.2022 - Fastnachts - A Shrove Tuesday Tradition
12.6.2021 - St. Mark's Annual Report Issued
11.28.2021 - Making Advent Wreaths
11.21.2021 - Operation Christmas Child Shoeboxes Packed and Ready to Go!
11.7.2021 - All Saints' Day 2021
10.23.2021 - Pumpkin Carving Fun
10.10.2021 - Crop Walk 2021
10.5.2021 - Pets Blessed
10.3.2021 - Blanket Sunday
9.26.2021 - Milestone Moment: Blessing of the Car Keys
9.25.2021 - God Moment
9.18.2021 - Celebrating "God's Work, Our Hands"
8.15.2021 - Bernadette Jones Recognized for Her Service
7.6.2021 - Pastor Vasey Celebrates 35 years of Ordination
7.6.2021 - Recognizing High School Graduate Sean Jensen
2.11.2021 - St. Mark's to Reopen for Regular Sunday Services

Second Saturday Mints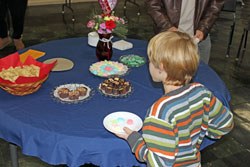 The Second Saturday crew gathered on February 11, to make mints! You know, the kind you get at weddings.
Using molds, the crew created multiple shapes of sweet, colorful mints. A number of flavors were created, with the usual suspects being most prevalent. The white colored Sassafras was perhaps the most unusual.
The crew ended the morning with a hearty lunch of chili and muffins.
If you attended the Hobby Expo the following Sunday, you were able to taste the mint creations. Delightful!