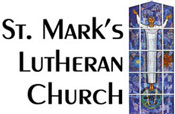 News
&
Articles
11.25.2019 - Bishop Collins Presides at Pastor Vasey's Installation
11.18.2019 - The Williamsport Camerata Performs to Support Organ Repairs
11.11.2019 - An All Saint's Sunday Welcome To Pastor Brian Vasey
11.2.2019 - All Saints' Day
10.20.2019 - St. Mark's New Pastor Brian David Vasey
10.10.2019 - The Gift of Warmth
10.6.2019 - Thank You Pastor James West
9.23.2019 - Rally Day 2019
9.7.2019 - St. Mark's Fall Bazaar
8.18.2019 - 70+, SINGLE AND STILL PRAISING GOD
7.18.2019 - St. Mark's Picnic and Fishing Derby
7.7.2019 - St. Mark's July 4, 2019 Events
6.27.2019 - Roaring With Vacation Bible School
6.27.2019 - Farewell and Godspeed to Bookkeeper Graydon Yearick
5.23.2019 - Council Members Elected
5.22.2019 - 2019 Annual Report Book Issued
4.20.2019 - The Passover Seder
4.13.2019 - Meal Packaging Event Draws Crowd of Volunteers
2.23.2019 - Photos from the 2019 Hobby Expo
2.12.2019 - All the Languages of the Good News Milestone

Second Saturday Mints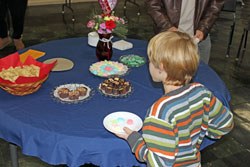 The Second Saturday crew gathered on February 11, to make mints! You know, the kind you get at weddings.
Using molds, the crew created multiple shapes of sweet, colorful mints. A number of flavors were created, with the usual suspects being most prevalent. The white colored Sassafras was perhaps the most unusual.
The crew ended the morning with a hearty lunch of chili and muffins.
If you attended the Hobby Expo the following Sunday, you were able to taste the mint creations. Delightful!