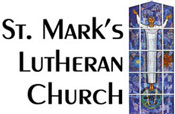 News
&
Articles
6.19.2022 - Council Proposes Revised St. Mark's Constitution & By-Laws
6.12.2022 - Confirmation
5.26.2022 - ELCA Response to the School Shooting in Uvalde, Texas
3.13.2022 - The Wind Strikes Again!
3.1.2022 - Fastnachts - A Shrove Tuesday Tradition
12.6.2021 - St. Mark's Annual Report Issued
11.28.2021 - Making Advent Wreaths
11.21.2021 - Operation Christmas Child Shoeboxes Packed and Ready to Go!
11.7.2021 - All Saints' Day 2021
10.23.2021 - Pumpkin Carving Fun
10.10.2021 - Crop Walk 2021
10.5.2021 - Pets Blessed
10.3.2021 - Blanket Sunday
9.26.2021 - Milestone Moment: Blessing of the Car Keys
9.25.2021 - God Moment
9.18.2021 - Celebrating "God's Work, Our Hands"
8.15.2021 - Bernadette Jones Recognized for Her Service
7.6.2021 - Pastor Vasey Celebrates 35 years of Ordination
7.6.2021 - Recognizing High School Graduate Sean Jensen
2.11.2021 - St. Mark's to Reopen for Regular Sunday Services

All the Languages of the Good News Milestone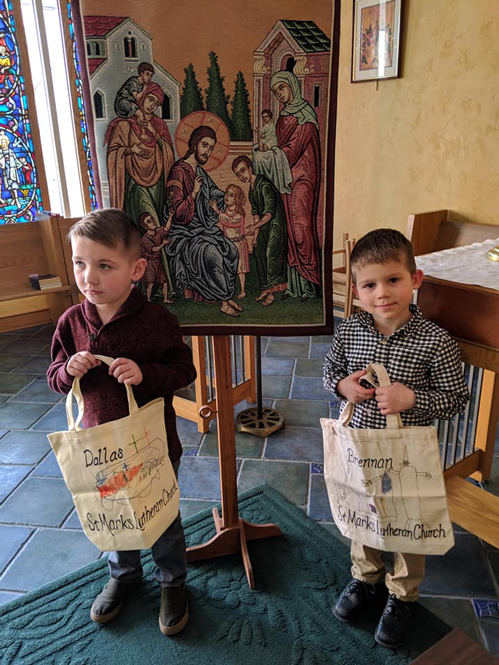 On February 10, 2019, we celebrated the milestone, "All the Languages of the Good News" with Dallas Hanford and Brennan Comerford. The milestone is for children who are of an age during which they are going out and experiencing more of the world.
The congregation gives them several items to commemorate this milestone. Their gifts show them that the Good News can be can be shared in many different ways:
Art. The icon they receive is of Jesus as the Good Shepherd. Mark 10:15, Matthew 6:28, John 10:14
Music. A CD of a children's choir singing songs that tell the story.

Literature. Books about heroes of the Bible, of bedtime stories, and a beginner's Bible.
This milestone is a reminder that the St. Mark's congregation is a huge part of the Passing the Faith ministry. The bags may be used as a tool for nurturing faith in the home.