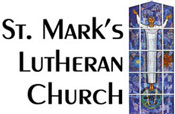 2015
News &
Articles
12.28.2015 - Presenting the Affirmers
12.25.2015 - Brother Heinrich's Christmas
12.21.2015 - Kids Night Out
12.1.2015 - Advent means it's wreath making time!
11.4.2015 - Pack 'N Wrap for Operation Christmas Child
11.4.2015 - Baptisms Celebrated on All Saints Sunday
10.29.2015 - Help For the Cold & Hungry
10.29.2015 - Recognizing & Remembering All the Saints
10.29.2015 - Flashlight Safari
10.18.2015 - Consecration Sunday 2015
10.18.2015 - Stephen Ministers Commissioned
10.17.2015 - Help For the Cold & Hungry
10.3.2015 - Heat's On! Check out the new "boiler"
9.27.2015 - New Catechetical Students Greeted
9.19.2015 - Fall Bazaar a Success!
9.17.2015 - Confirmation 2015
9.10.2015 - Breakfast Heralds Sunday School 2015 Start
9.9.2015 - How Do You Want St. Mark's to Improve?
8.18.2015 - Second Saturday: Drinks for All
8.10.2015 - Milestone: 70 or More Years of Praising God
8.4.2015 - 2015 Synod Assembly Report
8.4.2015 - Helping Hands
7.21.2015 - Photos: Synod Assembly & Lay Ministers
6.23.2015 - Progressions Milestone
6.7.2015 - Summer Picnic Photos
6.1.2015 - Fishing Derby at Doebler's Pond
5.30.2015 - Register for Vacation Bible School 2015
5.28.2015 - Pastor Schmitthenner Passes
5.17.2015 - Annual Congregation Assembly
5.17.2015 - Passing on Faith: Anniversary Milestone 2015
5.8.2015 - Women & Children's Dinner
4.29.2015 - 2015 Annual Report
4.23.2015 - Confirmands Track Down History
4.6.2015 - Sights from Easter Sunday
4.4.2015 - Easter Egg Hunt and Breakfast
4.2.2015 - Passover Seder Celebrated
3.5.2015 - Tubing Event!
3.4.2015 - Iron Chef 2015 Supports Family Promise
2.14.2015 - St. Mark's Hobby Day
2.9.2015 - Upcoming Snow Tubing Event
1.28.2015 - Youth Quake/Zone Event
1.11.2015 - Iron Chef Williamsport is back!

2015
The competition between St. Mark's Lutheran Church and this year's challenger, St. John Lutheran Church, Jersey Shore, begins at 5:00 P.M., Sunday, March 1, 2015, in Fellowship Hall, at St. Mark's Lutheran Church, 142 Market St., Williamsport.
An appetizing dinner will be served to all those making reservations through St. Mark's at 570-323-4619. Once the meal has been served, the cooking challenge begins. St. Mark's team, headed by Pastor Kenneth Elkin, face off against the St. John team, led by Pr. Kerry Auker. In order for all those present to view the event, the contest will be projected on the large screen on stage. It will also be streamed live on the web at www.ustream.tv/channel/iron-chef-williamsport for those unable to attend.
Last year, a drawing was added at the beginning of the event whereby the owner of the lucky ticket was invited to sit at the judges table and enjoy the efforts of the teams! It went over very well—especially with the winner—and we will be doing it again this year.
About 75% of the $30 ticket cost will go directly to Family Promise of Lycoming County. This is very exciting, as Family Promise has now been up and running for five years!
Thirteen congregations, with the help of many other supporting churches, have hosted over 89 families to date and many volunteers help at the day center! Those families consisted of 297 people, 205 of whom were children. As of one year ago, FPLC had supplied 11,991 nights of shelter (per person per night) which would have cost $222,000! Over 900 volunteers, county-wide, are giving their time to this ministry! Your funding goes to supply and maintain the day center, pay for insurance, fuel the van, and compensate our directors of the program!
If you cannot attend (or even if you can!), you can become a patron of this event in support of Family Promise of Lycoming County. We will place patrons in the a la carte listing ($1 - $49), the cordon bleu listing ($50 - $99), the haute cuisine listing ($100 and more), and the restaurateur listing ($180 and more) of our program. Please contact St. Mark's regarding your donation.
In the past five years, St. Mark's has raised $30,000+ for FPLC! Please join them as they defend the title, Iron Chef Williamsport, in this seventh annual competition. Whether you're cheering for them, for St. John or for Family Promise—they'd love to see you there!
For your viewing pleasure of this year's (yet to be posted) and previous challenges, please go to St. Mark's YouTube channel at www.youtube.com/user/StMarksChurch. Feel free to forward it to others after enjoying it yourself.
Iron Chef Williamsport has two aims: to raise money and friends for the Family Promise program and to bring folks together for mutual enjoyment and community-building in friendly competition. Those involved anticipate that this event will be wildly successful. Everyone will be wondering where the "Spoon of Doom" will next be delivered.