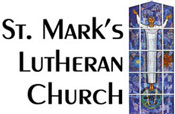 2015
News &
Articles
12.28.2015 - Presenting the Affirmers
12.25.2015 - Brother Heinrich's Christmas
12.21.2015 - Kids Night Out
12.1.2015 - Advent means it's wreath making time!
11.4.2015 - Pack 'N Wrap for Operation Christmas Child
11.4.2015 - Baptisms Celebrated on All Saints Sunday
10.29.2015 - Help For the Cold & Hungry
10.29.2015 - Recognizing & Remembering All the Saints
10.29.2015 - Flashlight Safari
10.18.2015 - Consecration Sunday 2015
10.18.2015 - Stephen Ministers Commissioned
10.17.2015 - Help For the Cold & Hungry
10.3.2015 - Heat's On! Check out the new "boiler"
9.27.2015 - New Catechetical Students Greeted
9.19.2015 - Fall Bazaar a Success!
9.17.2015 - Confirmation 2015
9.10.2015 - Breakfast Heralds Sunday School 2015 Start
9.9.2015 - How Do You Want St. Mark's to Improve?
8.18.2015 - Second Saturday: Drinks for All
8.10.2015 - Milestone: 70 or More Years of Praising God
8.4.2015 - 2015 Synod Assembly Report
8.4.2015 - Helping Hands
7.21.2015 - Photos: Synod Assembly & Lay Ministers
6.23.2015 - Progressions Milestone
6.7.2015 - Summer Picnic Photos
6.1.2015 - Fishing Derby at Doebler's Pond
5.30.2015 - Register for Vacation Bible School 2015
5.28.2015 - Pastor Schmitthenner Passes
5.17.2015 - Annual Congregation Assembly
5.17.2015 - Passing on Faith: Anniversary Milestone 2015
5.8.2015 - Women & Children's Dinner
4.29.2015 - 2015 Annual Report
4.23.2015 - Confirmands Track Down History
4.6.2015 - Sights from Easter Sunday
4.4.2015 - Easter Egg Hunt and Breakfast
4.2.2015 - Passover Seder Celebrated
3.5.2015 - Tubing Event!
3.4.2015 - Iron Chef 2015 Supports Family Promise
2.14.2015 - St. Mark's Hobby Day
2.9.2015 - Upcoming Snow Tubing Event
1.28.2015 - Youth Quake/Zone Event
1.11.2015 - Iron Chef Williamsport is back!
Rev. Samuel William Schmitthenner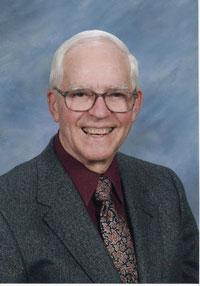 On Sunday, May 17, 2015, Rev. Samuel William Schmitthenner, passed away at the age of 86 at the Gettysburg Lutheran Home.
Older members of St. Mark's will remember that Pastor Schmitthenner served as an interim pastor after Pastor Brandau's retirement in 1995, and before Pastor Elkin joined the parish in 1996. He was well received by church members.
Pastor Schmitthenner's obituary follows:
Rev. Samuel William Schmitthenner, passed away at the age of 86 at the Gettysburg Lutheran Home on Sunday, May 17, 2015. Sam was born to missionary parents Marian and August Schmitthenner on Feb. 23, 1928 in Rajahmundry, India. He had most of his early education at Kodaikanal School, a boarding school in south India then for mostly missionary children. After his graduation from Kodai School in 1944, he came to the U.S. to attend Gettysburg College, completing his B.A. there in 1948. Sam then attended the Lutheran Theological Seminary, Gettysburg, receiving his B.D. in 1951. In 1950, he married his Kodai School sweetheart, Ruth Gosselink.
After Sam graduated from seminary, he and Ruth were called by the Lutheran Church in America to serve the Andhra Evangelical Lutheran Church (AELC) in India. During his 30 years as a missionary to India, Sam served as a parish pastor, an evangelistic missionary, and a surveyor of parishes throughout the five synods of the AELC. He was most proud of his accomplishments of selecting, training, and licensing 60 catechists to serve in smaller rural congregations and in helping to establish new congregations associated with massive dam construction projects along the Krishna River. He served as President of the AELC during his final 12 years in India (1969-1981). In honor of his distinguished career as a missionary, Gettysburg College conferred on him an honorary D.D. in 1977.
In 1982, a year after he and Ruth had left India, Sam accepted a call to be pastor of Faith United Lutheran Parish in Claysburg, Pa. He served there until his retirement in 1991. Sam and Ruth then moved to Pennsdale, Pa. They had been married for 45 years when Ruth passed away in their Pennsdale home in 1996.
In 1997, Sam married Barbara Kolumban and they have lived in Gettysburg ever since. (Barbara and her late husband Steve had served as medical missionaries for the ELCA in southern India.) Sam joined Barbara as a member of St. James Lutheran Church, Gettysburg. Though officially retired, Sam remained active for many years as a supply pastor for the Central Pennsylvania Synod and he regularly taught Sunday school at St. James.
Beyond his dedication to church and mission work, Sam was well known for his humor and storytelling. His stories, never repetitive, captivated children and adults alike. During his retirement, he published several books of his stories. He maintained a deep understanding and affection for Telugu people and their culture, and he could converse and tell stories in Telugu like a native speaker. Sam also had a deep commitment to and love of the greater Kodai School community. In 2013, he received the Margaret Eddy Award in honor of his varied service to the school as an alumnus. Sam was perhaps most in his element at Bella Sylva, his family's ancestral home in Wyoming County, Pennsylvania. There he enjoyed the outdoors - hiking, fishing, swimming, and hunting - sawing and chopping firewood, doing various projects to maintain the 19th century log cabin, and communing with his extended family.
Besides his beloved first wife Ruth, Sam was preceded in death by his parents; his sister, Katherine Marie; and his brother Jerry and spouse Shurlee. He is survived by many in his Schmitthenner and Kolumban families, who include: brother, Fritz and his wife Alice; sister, Molly and her husband Alan; children, Bill, Hans and his wife Joan, Chris, Pete and his wife Pam; grandchildren, Joe, Dave, Hillary, Russel, and Jenna; great-grandchildren, Sean, Lauren, and Aiden, and others in his extended Schmitthenner family; Barbara, his devoted wife of 17 years; Barbara's children, Mike and his wife Evelyn, Paul, Karl and his wife Robin, and Kathy and her husband Jamie; and Barbara's grandchildren, Kathleen, Steven, Sushma, Ahana, Eliana, and Eddie. Sam is also remembered fondly by his two brothers-in-law, Jim (recently deceased) and Chuck Gosselink, their respective spouses Jean and Char, and his Gosselink nieces and nephews.