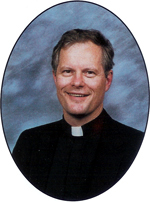 In 1996, Kenneth R. Elkin, arrived to lead St. Mark's into the 21st century. In April of 2016, he celebrated his twentieth year with St. Mark's. Pastor Elkin retired at the end of 2016.
Pastor Elkin served three parishes prior to his arrival at St. Mark's. He interned at Memorial Church, Harrisburg and stayed to become Associate Pastor/Parish Musician there during the years 1975-1982. He led two congregations to form Christ United Church in Catawissa and served as Pastor from 1982-96.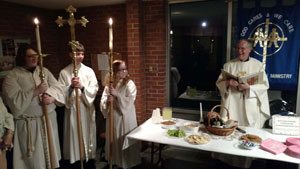 Rev. Elkin was born in Punxsutawney PA in 1949 and grew up in a farming community nearby. His interests in ordained ministry were shaped by his uncle, Rev. George H. Gerberding, and several pastors who served his home congregation, especially Rev. Bishop Paull Spring. He graduated from Punxsutawney Area High School in 1967 and from Thiel College, Greenville PA in 1971 with BA in Music. Wittenberg University granted him the degree Master of Sacred Music in 1973, and he received the Master of Divinity from Lutheran Theological Seminary at Gettysburg in 1977.
His interest in the music of the church was fostered first by his grandmother Aleda Nichol, and then by teachers such as Mary Zeitler, Dr. Charles Anders, Ms. Margaret Kommel, and Dr. Frederick Jackisch. As one might expect given his musical background, Pastor Elkin has greatly enhanced the effective use of music during the worship services. He is also a talented composer and plays several instruments.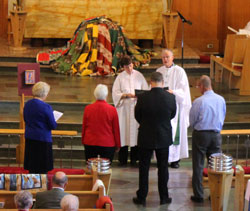 Pastor Elkin has encouraged the formation of volunteer committees, which have increased their membership and scope of duties, involving more of the congregation in planning and implementing church programs and services. The Stephen Ministry was inaugurated as a means of training interested congregation members to minister to those in spiritual need. Pastor Elkin has also developed the adult catecheumenate program, The Way.
During Pastor Elkin's pastorate, St. Mark's worship space has been updated to make it more accessible to all parishioners. An improved sound system, along with hearing aids for those with impaired hearing and large print bulletins are among the changes of recent years. Also, both the sanctuary and the chapel have been adapted to accommodate different approaches to worship, by the installation of movable furnishings.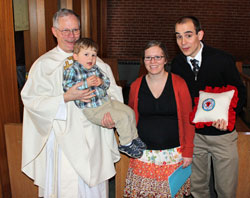 Pastor Elkin is a member of the Society of the Holy Trinity, a nationwide ministerium of 300 Lutheran pastors, the purpose of which is to support each other in being faithful to their ordination vows in a time of doctrinal confusion and moral uncertainty. At the 2005 retreat, he served as cantor and chief musician for all the services. In 2012 and again in 2015, he was elected to three year terms as Dean of the Susquehanna Chapter of the Society.
Pastor Elkin's spouse of many years is Donna Zierdt Elkin, who served for 18 years as Synod Cantor of the Upper Susquehanna Synod and retired as an elementary music teacher in the Jersey Shore Area School District. They have 3 children: Katy, a baroque musician in Barcelona, Spain; Sean, network administrator for Ward Manufacturing in Wellsboro, and David, teaching mathematics in a Philadelphia charter school. All three are married and there are four grandchildren.
Pastor Elkin retired December 31, 2016.