Two Assistant Pastors served with Rev. Houser:
REV. ROBERT E. NEUMEYER
The Rev. Robert E. Neumeyer (Pastor Bob, as he was affectionately called) came to St. Mark's on November 19, 1946, to supervise the religious education of the parish, and assist in the other pastoral duties. A native of Allentown, he graduated from Muhlenberg College and the Lutheran Theological Seminary at Philadelphia. For two years following graduation, he served as a Navy Chaplain during World War II.
He worked untiringly for five years at St. Mark's, teaching and advising young and old alike and left an indelible spot upon the hearts of the whole congregation before accepting a call to become senior pastor of Zion Lutheran Church in Wilmington, Delaware, which pastorate he assumed October 10, 1951.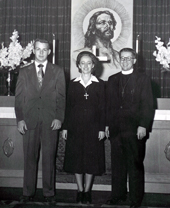 In 1964 he became Director of the Center City Lutheran Parish of Philadelphia. He was called as assistant to the President of the Southeastern Pennsylvania Synod in 1969.
Rev. Neumeyer's untimely death occurred in 1979.
REV. FRANKLYN S. LAMBERT
Rev. Lambert joined the congregation in June of 1953. He was a graduate of Muhlenberg College and the Philadelphia Seminary.
Rev. Lambert left St. Marks in 1954, and he joined Holy Trinity in Manhattan, N.Y. He then served Trinity Church in Philadelphia and, later, several churches in Florida. Pastor Lambert died January 14, 2003, at age 80.