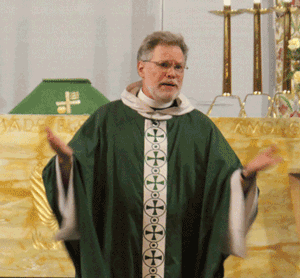 The Rev. Brian David Vasey was called as Pastor of St. Mark's on September 15, 2019. He came to Williamsport from St. John's Evangelical Lutheran Church of Mifflinville, where he had served since 2015.
Pastor Vasey was born to Carey E. and Alberta J. Vasey, February 26, 1959, in Syracuse, NY. He grew up in Geneseo, NY and attended high school at Genesee Central School, Genesee, NY, graduating in 1977. Post high school education consisted of Monroe Community College, Rochester, NY (Associate in Arts), 1979; Lycoming College, Williamsport, PA (Bachelor of Arts), 1981; and, Drew University (The Theological School), Madison, NJ (Masters of Divinity), 1984.
He was ordained June 15, 1985 as a United Methodist Elder and became a Rostered Leader in the ELCA on August 2, 2015.
Pastor Vasey previously served Methodist Churches in Catawissa, Nescopeck, Clearfield, York, Lewisburg and Bellefonte before joining St. John's Evangelical Lutheran in 2015.
The Pastor is married to Joanne Vasey who currently is employed as the organist and choir director at Christ's Lutheran Church in Lewisburg. He has two adult children - Brandyn Aguirre and Timothy Vasey.