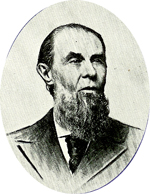 An influx of German settlers into Williamsport in the early 1800's brought German religious tradition as well. The German Lutheran and German Reformed Churches came into existence in Lycoming County in 1827 and they worshipped together for more than twenty years in a church on Third Street, next to the old jail.
By 1852, a number of the German Lutherans desired to worship in the language of their adopted land. Led by Rev. Henry Ziegler, 27 members of the Lutheran Church formed the English Evangelical Lutheran Church of Williamsport on March 7, 1852.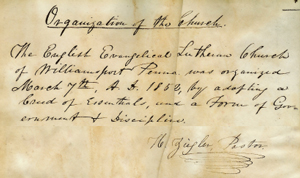 Rev. Ziegler served the new church for only about a year, moving from Williamsport to Gettysburg to become the field agent for the Parent Education of the General Synod. According to an article written by Dr. Donald D. Housley in the newsletter of the Lutheran Historical Society in 1996, Rev. Ziegler was a missionary for the Pittsburgh Synod when he "founded St. Mark's out of a revival in Williamsport." According to Housley, "Ziegler traveled 11,074 miles, preached 450 services in English and 180 in German, gave 161 catechetical lectures, baptized 92 children and organized 7 churches which served Lutherans in places as vacant as those from which he had come." (Read the full article.)
Pastor Ziegler was influential in the founding of the Missionary Institute, the forerunner of Susquehanna University, in Selinsgrove, Pa. He served as Superintendent and First Professor of Theology until poor health forced his resignation in 1881. He died in Selinsgrove in 1898.