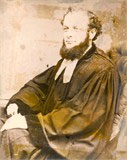 On December 18, 1886, Rev. Adolphus Leroy Yount was installed. From her Majesty's domain, far off Nova Scotia, the pastor came. A royal welcome greeted him. The Church Council, en masse, met him at the station. The parsonage and church had been fitted over and the people rallied around their new pastor with a mind both to work and to make his labors among them pleasant.
A mere change of scene or of physician may be beneficial to the convalescent, not that the old scene and old physician are not what they should be, but because the mere change is beneficial. So it proved in this congregation. Under the combined efforts of the energetic pastor and flock a new life became manifest.
A congregational paper was issued called "The Church Chronicle." The debt of $800 was paid.
On October 24, 1888, the name of the church was changed from the "Market Street Lutheran Church" to "St. Mark's Evangelical Lutheran Church."
The Swedish Lutherans, having no church building of their own, worshiped in St. Mark's on Sunday afternoons. The Sunday school increased. The Church of the Redeemer for members living in the Eastern section of the city was started on its way.
During his pastorate, the chancel was remodeled and the old pulpit replaced by a modern one.
Every Sunday found the little church well filled, and on great festival days it was crowded. The congregation was now faced with the question, should a new church be built or the old one remodeled and enlarged.
It was decided to enlarge the building, but with this decision, on the same day, came the disastrous flood of June, 1889. Within a few hours, the high hopes of this thriving congregation were swept away, and we might add, so was the second bridge across the Susquehanna. Had it not been for that flood, St. Mark's might have had a remodeled church instead of the large brick and stone edifice built in 1896.
Rev. Yount resigned on September 28, 1889 after five years of service; 331 new members were added during his pastorate. It appears that he continued to serve Lutheran congregations in Western Pennsylvania as there are records of his having performed marriages at the First Lutheran Church in Greensburg, Pa. in 1891 and he is listed as founding pastor of St. Luke's Evangelical Lutheran Church, Greensburg, where he served from 1901-02. In 1903 Rev. Yount, along with W. F. Ulery, edited and published, History of the Southern Conference of the Pittsburg Synod of the Evangelical Lutheran Church.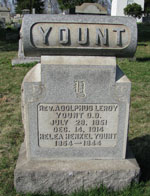 He was born May 28, 1853 in Catawba County, N.C. He was ordained 1877 by the Tennessee Synod. Additional calls: Supplied St. Mark's, Charlotte, 1874-76; transferred after ordination to Illinois Synod, 1877; served churches in Illinois, Nova Scotia, and Pennsylvania, including First Church, Greensburg, Pa.
Rev. Yount was married to Leah Ellen Henkel, the daughter of Rev. David Melanchthon Henkel. Together they produced 10 children, including Rev. Paul Yount (who also served St. Mark's) and Rev. John Arndt Yount. His brother was Rev. J. Alonzo Yount.
He died in 1914 and is buried with his wife, who died in 1944, in Greensburg, Pa.