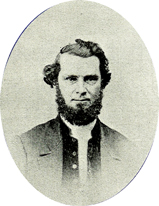 Rev. Joseph Frederick Fahs was a young man when he assumed pastorate of the still infant congregation on April 1, 1858. A prayer meeting, the first of record, was instituted. During his four years and ten months of ministry in Williamsport, many difficulties presented themselves, but nevertheless, the church grew in strength and in spirit. The membership increased from 70 to 100, and the little church emerged from the critical period of childhood.

During his leadership, a full time sexton was hired to care for the church and its property; the parsonage next to the church, which building was demolished during the 1949-51 Market Street bridge ramp construction project, was purchased and an altar was erected in the chancel to replace the table formerly used.
He resigned in 1863 to accept a call from St. John's Church, Allentown, Pennsylvania.
He was born January 18, 1826, at York, Pa. His parents were Samuel and Catharine Fahs. His education was pursued in select schools and privately. He entered the ministry in 1852, having been ordained by the Maryland Synod. Rev. Fahs was married. May 9, 1854, to Emma Miller, daughter of Rev. Henry S. Miller.
Rev. Joseph Frederick Fahs was Professor of History in Muhlenberg College, 1867-70. His other pastorates were : Hancock, Md., 1852- 55; Newtown, Va., 1857; Akron, Ohio, 1872-82; Canton, Ohio, 1882.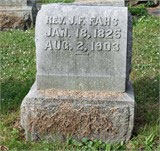 During his pastorates he compiled several selections of songs and hymns, prepared a Christmas Service for Sunday-schools, and published various discourses.
Rev. Fahs returned to the church in 1902 to participate in the celebration of the church's 50th anniversary.
He died August 1903 and is burred in Prospect Hill Cemetery North George Street York PA.